Kali Uchis "Red Moon in Venus" Review: A Musical Trip to Intimate Dreamland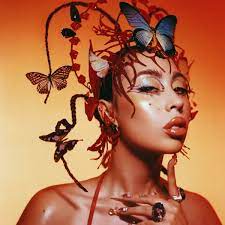 Sebastian Cruce, Reporter
May 31, 2023
After a three-year hiatus since her last full-length release, "Sin Miedo," singer/songwriter Kali Uchis has re-emerged with her third studio album titled "Red Moon in Venus." Through her highly-anticipated album, Uchis maintains her slow and intimate sound from "Sin Miedo," while also incorporating newer elements of soul and funk. All throughout the album, she shows incredible musical maturity in her sounds and themes, something that was beginning to shine on "Sin Miedo" but never quite bloomed as it is now.
The biggest theme in the album is found within the title, as Uchis references the goddess of Venus, who encompasses love, desire, and prosperity. The idea of love is vastly explored in this album, with each song giving a different perspective on love and the concept of falling in love. The slow, intimate, and occasionally groovy instrumentals, combined with the central theme of love make every track bring you further into this dreamy and self-revealing listening experience like no other.
Uchis begins the experience by welcoming you with "In My Garden," a track filled with natural ambiance, birds chirping, and the line, "I love you," leading right into the next song. The album's debut single "I Wish You Roses" comes next, acting as an accompanying track to the previous one, showcasing her signature slow and smooth sound in style. On it, Uchis repeats, "I wish you love, I wish you roses while you can still smell them." This song is the first example of her exploration of love on Red Moon in Venus, exploring the topic of letting go of someone really close to you in a relationship. Throughout the album, Uchis tells the story of a new relationship that feels sweet at first, but as time goes on, becomes just like every other one she's been in. She explores each phase of a relationship with every song, starting with the "honeymoon" phase of endless affection and love in her encapsulating duet with RnB singer/songwriter Omar Apollo, "Worth The Wait." She begins to get too comfortable, making her question the relationship in "Moral Conscience," a song about her questioning her choices in her past relationships. After "Blue" which is the turning point in this relationship, she begins to focus on self-love and improvement after the relationship ended. She does this through her second single before the album's release, "Moonlight." 
Like her previous releases "Isolation" and "Sin Miedo," Red Moon in Venus blends sounds of pop and RnB into this groovy, yet intimate sound that is like dreamy ear candy. From the lush piano chords of "I Wish You Roses" and the groovy and mysterious atmosphere of "Worth the Wait," the blend of neo-soul/funk and RnB creates for a unique experience of listening. Her voice works so well on these instrumentals, complementing each one perfectly. Uchis layers her vocals and instruments and sends you straight to dreamland with every listen. The funky bass lines, Funkadelic-esc organs, and reggae snare breaks are the highlights of her sound choices on songs such as "Love Between" which encapsulate this dreamy feeling perfectly.
Uchis brought on a lot of firepower for this record too, calling upon some of the biggest names in pop currently. On "Fantasy," rapper Don Toliver, who is also her boyfriend, uses his unique vibrato in his voice to provide an infectious hook and invigorating verse. "Worth The Wait" sees Apollo use his voice to further build onto the mysterious vibe of the song's instrumentation. On "Deserve Me," RnB singer/songwriter Summer Walker teams up with Uchis to provide a self-love anthem about moving on from a relationship. Walker uses her storytelling abilities to provide a verse talking about how she never needed this love interest the song is about. Each guest she brought on serves a unique purpose on the project, bringing new musical perspectives that are done just right onto their respective songs. From Toliver's incredible flow on the Latino-pop style sound of "Fantasy" to the mysterio of Apollo's backing vocals on "Worth the Wait."
"Red Moon in Venus" was an RnB album done right. Improving off of what she started to show in "Sin Miedo," Uchis took her sound from that album and made it more interesting and flavorful with the diversity of tempos and instruments chosen. She also uses her voice as a powerful tool, which she's known to do, but is elevated with every song on the album. After three, long years for Kali fans, this release is a proper breath of fresh air that brings a new take on modern RnB that is desperately needed. Her vulnerability on this album is novel for her, that confidence carries over to the maturity of sounds she presents too. This album is the album that every chill music fan needs to listen to soon and is guaranteed to leave people coming back for more. 
9.3/10