Jags Demolish Cougars in Big Divisional Win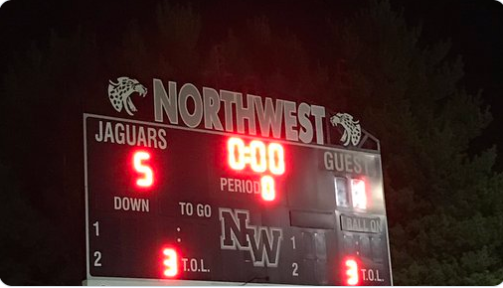 Marcus Stubbs, Sports Editor
September 25, 2019
The Northwest Boys' Soccer Team is already preparing for their next conference opponent after a divisional win against our biggest divisional rivals.  
On September 24th 2019 it was a dominant performance by the Jaguars, led by senior captains Liam Giffin and Karthik Nambiar. Anderw Markiewicz and Giffin held the Cougars to only one goal in the 34th minute of the second half. 
Max Guerra connected with Liam Giffin in the 36th minute of the first half with a beautiful cross from the right corner into a header directly in front of the goalie for goal of the game. 
The crowd was emotionally invested in every part of the game and was very vocal of their disapproval with officiating due to the excessive off-sides and missed foul calls. Carlos De Paz capped the night off with a penalty kick to complete his hat trick and end the game in a 5 to QOs measly 1 point.
Don't miss the Jags' next game!  It's Saturday at Gaithersburg High School at 2:45pm.