Alina Zagitova Golden Girl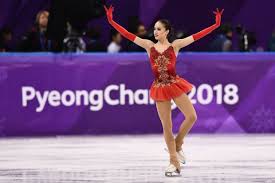 Tess Kasunic
February 25, 2018
Hang on for a minute...we're trying to find some more stories you might like.
Alina Zagitova, who is a 15 year old figure skater, won her first gold medal on Thursday night.
She beat her training partner, who is 18, which everybody was surprised about. Zagitova has trained nearly her whole life for this moment, and even she didn't believe it when she saw her final score. She said her "hands were shaking, because I haven't understood yet that I am an Olympic champion yet."
A few months earlier her name became well known in Russia because her competitor, Evgenia Medvedeva, cracked a bone in her right foot in October so she was unable to participate in the Russian National Championships. Zagitova won the the Grand Prix final and the Russian national championships in her absence.
Then last night, both Zagitova and Medvedeva competed against each other. Zagitova won gold while Medvedeva won silver.  
Zagitova  became the second youngest Olympic gold medalist in figure skating after Tara Lipinski, who was 26 days younger when she beat out Michelle Kwan for the gold at the 1998 Games in Nagano.
Zagitova may be young, but she is still more talented than most figure skaters who have been figure skating for nearly 10 years longer than she has.