Storms Abound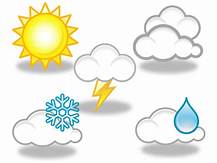 Stefan Siewe
April 23, 2018
Hang on for a minute...we're trying to find some more stories you might like.
Weather reports are calling a range of wacky weather throughout the weekend. In the Midwest, they're calling for blizzard conditions. Certain areas may get up to twenty inches of snow while winds up to 50 mph are could cause whiteout conditions the National Weather Service in Rapid City, S.D., warned. The highest and heaviest amount of snow however is gonna be centered around Nebraska, South Dakota and Minnesota. Flights will probably be delayed or cancelled Saturday.
The winter storm, now dubbed Xanto will bring frozen rain and an ice storm around the Great Lakes along with New York State and New England. But in the south, an outbreak of thunderstorms will wreak havoc across portions of the central and southern Plains to the Mississippi, Ohio and Tennessee Valleys. Accuweather warns "The storms may bring the full spectrum of severe weather ranging from high winds, large hail, flash flooding, frequent lightning strikes and perhaps a tornado,"  It'll bring rainfall from East Texas to West Kentucky, bringing 1-3 inches through Saturday. Flash flooding is possible in portions of Arkansas and Louisiana.