Mudslide: Sierra Leone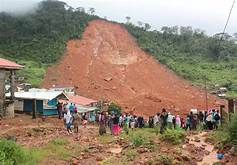 Donna Tapong
April 23, 2018
Hang on for a minute...we're trying to find some more stories you might like.
On august 14th 2017 a mudslide in Sierra Leone killed more than 400 people on the outskirts of the town capital.
This disaster was caused a hillside collapsing which caused a mudslide. Because of the mudslide and heavy rains that came along,  it overwhelmed Freetown's drainage system creating waterways that churned down steep streets.
Among those who were killed about 109 of them were children and it left 3000 homeless. Some homes where engulfed in the mud and emergency system had a tough time assisting those in need. In response to this problem the government promised relief to those left homeless by opening an emergency response system.
Considering that the government doesn't have the funds to deal with such a huge disaster they asked for assistance from the UN and other countries. The threat of further mudslides around Freetown remain. Many areas of the capital are near sea level and have poor drainage systems, which makes flooding worse during the rainy season.