Hurrican Maria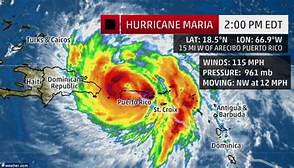 Larissa Savitsky
April 23, 2018
Hang on for a minute...we're trying to find some more stories you might like.
Last year hurricane Maria lived from September 2017 until October 2017. The hurricane has been recorded as the tenth most intense Atlantic hurricane. It has been regarded as the worst hurricane to hit Puerto Rico and Dominican republic due to the extreme damage.
The Atlantic hurricane affected several areas including Puerto Rico, United Kingdom, Dominican Republic, Bahamas, and France. Although some areas were hit harder and are still suffering through the damages.
Hurricane Maria cause Puerto Rico to have more than $90 billion dollars in damage and thousands still do not have electricity or access to clean water in 2018. Making Puerto Rico hold the record for the longest power outage in the United States, and the second largest in the world. They aren't sure exactly how many people have died from the hurricane but it is estimated to be more than 1000.
Since the initial hurricane they have been able to improve conditions providing power and resources to more people. Although power is not expected to fully be restored to everyone until May.
The hurricane was largely underestimated by FEMA. They only expected the hurricane to end up being a category 4. Although it ended up being a high-end category 4 hurricane, with category 5 winds around the island. Which caused  FEMA to be unprepared. FEMA didn't expect to have to take such a large role in the recovery from the hurricane. Along with being unprepared the slow responses from FEMA have also caused a stretch in the length of the recovery time.  FEMA is pushing to get damages fixed as soon as possible and hopefully before June when hurricane season starts all over again.