Hawaiian False Missile Alert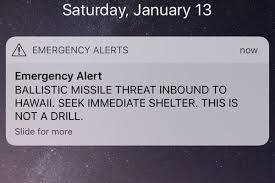 Larissa Savitsky
February 25, 2018
Hang on for a minute...we're trying to find some more stories you might like.
On January 13, 2018 Hawaii started the new year with a faulty message which terrified everyone in Hawaii. At 8:07 in the morning, people woke up with a startling message on their phones in all caps, "Ballistic Missile threat inbound in hawaii, seek immediate shelter. This is not a drill."
Although the message was a mistake, it was a drill, and the employee accidentally misinterpreted it as a real emergency. To make matters worse when he was told to cancel the message, he didn't, he was confused. Eventually another employee sent out the message which was out 38 minutes later.
One of the first people to let everyone know the message was actually a mistake was Hawaii Congresswoman Tulsi Gabbard, who used twitter to tweet out, "Hawaii, this is a false alarm. There is no incoming missile to Hawaii. I have confirmed with officials there is no incoming missile."
The Governor, David Ige waited until 8:24 a.m until he finally tweeted out  "There is NO missile threat."  Although this was long after he originally found out that it was false. The governor admitted he found out it was a mistake 2 minutes after it was sent. During the 17 minutes of delay, he claimed he didn't know his own twitter password. Explaining that for the future he is going to make sure he has easier and quick access to twitter in order to directly communicate with the people.
Since this false message there have been calls for some serious changes, in order to prevent this from happening again. The Hawaii Emergency agency has since announced "the top two civilian officials," resignations, the employee who issued the alert was fired,  and have also suspended a mid level manager." The HEMA has also added a second person who will oversee the sending of any alert messages, hopefully preventing further human errors.