Sleep Talking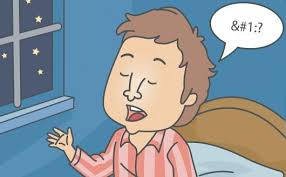 Nithya Ramesh
January 30, 2018
Hang on for a minute...we're trying to find some more stories you might like.
Sleep talking is when a person starts to talk while in REM sleep. This parasomnia affects about 5% of Americans, but since it is also caused by stress or sleep deprivation, about 66% of Americans have talked in their sleep at least once.
Medical News Today has conducted research about what exactly we say when we talk in our sleep. The first thing they found out was that men sleep talk more than women.Men also curse and say negative things in their sleep more than women.
We know little about the brain mechanisms that provoke sleep talking but research has suggested that it arises as a part of rapid eye movement (REM) sleep behavior disorder, wherein the region of the brain that paralyzes speech and movements during sleep fails to function effectively.
Medical News Today has also concluded that sleep talking is harmless. They have also concluded that sleep talking also is commonly linked to other sleeping disorders, such as sleep walking, sleep terrors, or even Sleep Apnea.
Also, they found out that when individuals were experiencing negative emotions during their sleep, their sleep talking was louder and sounded more anxious, while more positive emotions were followed by softer talked and mumbles.
"What we now know," Dr. Arnulf told MNT, "is that sleep talking is very similar to talking awake, in terms of correct grammar, with subordinate sentences, and silence for other[s] to answer, as in awake turn of speech." This means that as embarrassing as sleep talking can be, at least our grammar stays in tact.
Sleep talking is becoming more and more easy to research, and as we find out more about it, it is easier to see what exactly our brain does and what processes take place while we are sleeping.