Is the Dream coming to an End?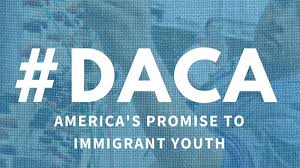 Nhaya Vaidya
January 30, 2018
Hang on for a minute...we're trying to find some more stories you might like.
The President's sinister plans have been thwarted for now. The bill that was to abolish DACA, the Deferred Action for Childhood Arrivals program, is on hold for now as a federal judge in California temporarily blocked the motion. The program protects the "deportation of about 700,000 young undocumented immigrants who came to the US as children." (Criss)
So what is DACA exactly? It protects undocumented immigrants who came to the US under the age of 16 from deportation. They had to come to the US before June 15,2007 and be no older than 30. Once the immigrants get a background check there are able to get renewable two-year permits to work and study in the United States. Since it was passed by President Obama in 2012 about 800,00 peoples were protected.
But, not all support this program. Republicans believe that it should be removed.  They believe that because the immigration is illegal these people should not be able to stay in the country and should instead be deported.
While the Republicans want to abolish DACA, the democrats want to turn it into a law, the Dream Act. This would allow the immigrants to eventually become citizens. Yet, not all Republicans are against DACA. there are some who would like the dreamers to stay and instead address border security concerns.
March 5 is the date for the permit to expire as set by the Department of Homeland Security. This means the holders have a one-month window to apply for a renewal. Over 20,000 of those eligible did not get their extended permits. For either not paying the fee of $495 or by their applications being "lost in the mail."
Trump is not backing down. He believes that the Democrats have done nothing for DACA and are just interested in politics. Instead he insists on a border wall. He demands that DACA be abolished although during a meeting about immigration, he contradicted himself. Who is to say that he is fit to make these decisions?