Building a Wall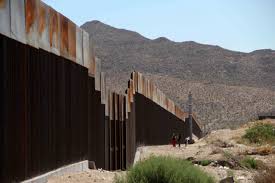 Larissa Savitsky
January 30, 2018
Hang on for a minute...we're trying to find some more stories you might like.
The White House's fight for stronger immigration laws and border control was on Trump's agenda before he took office. Trump's ideal plan of stopping illegal immigration is by building a wall between Mexico and America.
Requesting $18 billion to build a wall in between Mexico and America. As well as $25 billion more in other border security. Trump and his administration are stopping at nothing to build the 1,000 mile wall.
Skeptical activists worry about the impact this will have on the environment, and claim it is a violation of people's liberties. Environmentalists worry about the damage it will have to wildlife, and that it could result in endangering species in the region.
The Democratic opposition believes that the solution isn't a wall its the "the use of modern technology, increased border personnel and better coordination with our southern neighbor," Henry Cuellar a democratic congressmen explained how democrats could support this.
On the other side the majority of Republicans support the immigration border wall. Believing this will finally tackle the illegal immigration from Mexico to America.
As shown in previous polls that a 63 percent majority of American citizens oppose the wall, and that only 32 percent support the wall.
Even with the minimal support the government seems determined not just to build a wall, but to use some of Mexico's land and money.
Although the President of Mexico has been clear they will not pay for or support, the wall.
The borders are already a hard place to live, as many people living in Mexico cross the border daily to go to school or work. The wall would make it much harder for these people, causing many of them to have to find new jobs or go to a different school.