Gävle Goat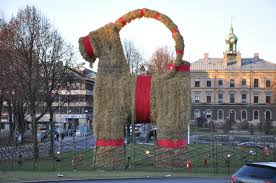 Nhaya Vaidya
January 3, 2018
Hang on for a minute...we're trying to find some more stories you might like.
Holidays are celebrated differently all over the globe. While some hang their stockings by the fire others burn straw goats. In Sweden they have a tradition of displaying a Gävle Goat in Castle Square. It all started in 1966 when a man named Stig Gavlén decided to create a giant version of the Swedish straw goat. It was to attract customers to the southern part of the city. Ever since then the goat has been placed in the same spot and is a Christmas symbol.
To make it takes a full truck of straw and is 42.6 meters high while weighing 3.6 tons. From 1967-1968 the goat was left unharmed. But that all changed in 1969 when someone burned the goat on New Year's Eve. Ever since then almost every year following the goat has been subject to some type of harm. Whether or not the goat is burned is the question. Most of the time it is, however, there are a few years where the goat was unharmed. The goat has survived 14 out of the 50 years that is has stood.
It is an unspoken tradition that the goat is to be destroyed year after year. But it is not a legal one. If caught one can be fined thousands of kornas and possibly jail time.
Some of the more extreme ways that goat has been destroyed include: run over by a car, burned before it was put up, and attempted to be stolen by a helicopter.  
There are some who would like to protect the goat to allow it to last until Christmas. Cameras and security guards are in place to help guard the goat as well as surrounding double fences. Any other security implementations are a secret.
The reason to saving the goat is because people began to cancel their trips. Theres are thoses who come to visit for the sole reason to see the goat but, once burned down they have no reason to go.
Will the goat be saved this year? Or will be burned down and destroyed? Only time will tell.
Update: The Gävle Goat beat the odds has survived this. It was taken down on January 2, 2018.
Sources
"The Various Fates Of The Gävle Goat | Visit Gävle."
Visitgavle.se
. N. p., 2017. Web. 21 Dec. 2017.
"'Secret' Plan To Protect Gävle Christmas Goat From Arsonists."
Thelocal.se
. N. p., 2017. Web. 21 Dec. 2017.