Till I Collapse: Review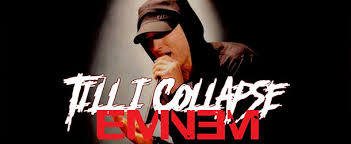 Sierra Harvey
January 30, 2018
Hang on for a minute...we're trying to find some more stories you might like.
The song "Till I Collapse" rapped by Eminem ft. Nate Dogg,  was composed by Marshall Mathers (Eminem), Nathaniel Hale (Nate Dogg) and Luis Resto. The song was also produced by Marshall Mathers. The song was released in 2002 on the Eminem Show album. This particular song can go under the genres rap, hardcore rap, or rap rock.
"Till I Collapse" consists of the instruments following instruments; Keyboard, Bass, Electric Guitar, Drums and Vocals. The intensity of the song jumps from medium when it's the chorus and medium high during the verses.The song also consists of high energy vocalized by Eminem. The songs lyrical subject is that no one can knock you down, when you're in the moment don't stop keep going; you never know when it'll be over. You might not be the best at what you do but, it doesn't mean you're bad. It's still your time until you say it's over. The song gives a very determined mood.
Subjectively speaking, "Till I Collapse" is an amazing song, which I absolutely love. This song always manages to get me pumped up, and ready to win a softball game or anything competitive. I also get very inspired by this song to not give up or stop doing what I want, and to not care what other people say about me. Eminem is very much able to get his point across throughout the entire song, it gives the listeners a very clear message.