Death: Fredo Santana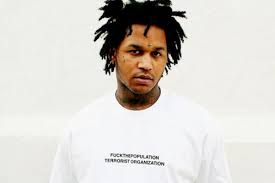 Nelson Camara
January 30, 2018
Hang on for a minute...we're trying to find some more stories you might like.
On January 19th 2018 the announcement of the Chicago rapper Fredo Santana's death shook the world. He was a popular figure in Drill music and was known by many as the "Grim Reaper" of illinois. He supposedly has died of a seizure although the exact cause of death is currently unknown. Many urban figures such as his cousin Chief Keef have let out words of remorse over his passing.
"Stop saying Fredo was my friend, That's my cousin, Big difference" Chief Keef said on the day of Santana's death.
It is speculated that the kidney and liver problems are the reason for his passing, and many are pointing the blame at the popular drug known as "Lean" which Fredo was addicted to. Lean is actavis codeine cough syrup mixed with soda and sometimes candy to improve the taste. Codeine is sometimes prescribed to people to help with cough and throat problems but is often abused in order for people to get high.
Fredo Santana has said he quit lean months ago but the damage might have already been done to his liver which could have resulted in his death. We have to use this unfortunate event to educate others about the dangers of drugs.