Neverwhere: Authors Prefered Text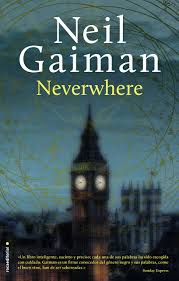 Nhaya Vaidya
December 11, 2017
Hang on for a minute...we're trying to find some more stories you might like.
Stars: 4/5
Originally published in 1997, a new paperback edition of Neverwhere was published in 2016 containing the author, Neil Gaiman's, prefered text. As a bonus it included the short story "How the Marquis Got His Coat Back", to be read after the book.
This book contains scenes that were previously cut in other editions. It first got its start as a television series on BBC, written by Gaiman and then published as a novel alongside. Neverwhere is considered to be an urban fantasy and it hooks you in within the first twenty pages.
The novel is set in the city of London with a young businessman, Richard Mayhew,who lives a pretty dull life. But when Richard partakes in an act of kindness, by helping a bleeding girl lying on the street, his life starts to change, and not necessarily for the better. His life disappears and no one remembers him: not even his fiancée. While the story begins in London, it moves on to the underground world known as London Below (also known as Neverwhere), a dark counterpart. The young girl that Richard helped, Door, is a lady in London Below. Her family has been murdered and now assassins are hunting her down to do the same to her. Door is looking to avenge her family's death while Richard is looking for his life back. In London below the story takes a turn filled with assassins, rats, and a Hunter.
The book is compiled of many different points of view and locations changing with each chapter. The twists and turns will have you wanting more, and although parts are slow at times the pace does pick up. Gaiman's dark fantasy mixes with humor to create a novel that has depth with comedic relief.
This book may not be the best for small children, but would be a great fit for high school students and adults alike. Neverwhere was thought to be a standalone book, however, Gaiman has recently announced a sequel titled The Seven Sisters that he is currently in the process of writing.
Whether you are in London Above or Neverwhere this book is an enjoyable read.