Senioritis is Real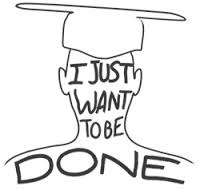 Mason Rosen
January 30, 2018
Hang on for a minute...we're trying to find some more stories you might like.
Senioritis. A bad symptom for seniors in high school. It's when seniors don't do any work, and procrastinate till the last second, and rarely show up to school. It's bad and every senior in high school comes across it. Especially when they've already gotten into their top college, then they start thinking that they don't need to give their best effort, and all they need to do is graduate.
I am a senior with senioritis. Once I got into my top choice, Coastal Carolina University, I just started giving up. Don't do what I did. The last week of the second quarter I was cramming in all the work I never did, and it was the most stressful week ever. I don't wish this upon any incoming seniors, so if you're a freshman, sophomore, or junior, try your best until your very last day of school. A good reason for this? Some colleges also take away your acceptance if they don't like your grades in the next semester.
Also, not showing up to school as a second semester senior. Show up to school. The work will pile up, just like if you show up to school, get the work, and never do it. Incoming seniors, do you work, show up to school, and graduate.