Review of Cold Stone Creamery in the Kentlands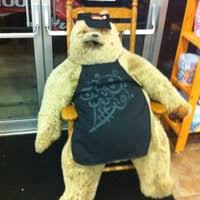 Ben Webster
December 11, 2017
Hang on for a minute...we're trying to find some more stories you might like.
Cold Stone Creamery in the Kentlands is one of the more famous Cold Stone's in Maryland because they are the only one paired with rocky mountain chocolate factory so people can get chocolates and candy apples with their ice cream. Their ice cream is always very good and high quality, which is matched by the friendly customer service. The store is often busy but the worker do a great job at staying at a quick pace without making the customer feel rushed. It is very well known that the prices are very expensive but the entertainment from the tip songs and the quality of the treats make the cost worth every penny. The store has recently gone through some design changes to keep it looking new, because their old look had been out of style and did not keep up with the menu changes. The new design appears to be more family friendly and is less confusing for new customers.  
The other reviews about Cold Stone are very mixed. Some people felt that the workers were rude and that the ice cream was about or below average so not worth the high price. Other reviews say that the workers are very friendly and make great ice cream, also the songs they sing for the tips give the entire experience that much better. The one general consensus is that the store is in a great location, being surrounded by many dinner locations it makes for a great place to pick up some dessert to go with your meal.
The store is also one of the best places in Gaithersburg for cakes. They always have lots of signature cakes ready to go that you can walk in and they can decorate for you within a matter of minutes. Or if you do not like any of the signature cakes, you can also order a custom cake and the workers are always very thorough with the details about your cake. After the order is placed it is ready to be picked up within a few days. Even around the holidays when lots of orders are placed.
Cold Stone overall has great service and good products and is worth the high prices because of the convenience of the location and the uniqueness of the songs the workers sing after getting a tip for a job well done.