Comic Talk: The Punisher Season One Review
Stefan Sani Siewe, Comic Book Expert
December 4, 2017
Hang on for a minute...we're trying to find some more stories you might like.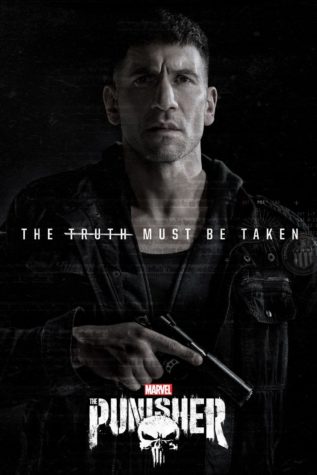 Background: After the murder of his family, Marine veteran Frank Castle became a vigilante known as "The Punisher" with only one goal in mind, to avenge them.
Review: First of all, let me start by saying that this show needs some awards. Also, another point to be made is that this show is not for those who can't handle mass amounts of blood and gore. Now, let me start by saying that this show respects its content and its themes with flying colors.
Second of all, Jon Bernthal(who is an actor I've been following for a long time) gave the performance of his life and I truly believe that this man is the perfect person for Punisher like how people say that Robert Downey Jr. is the perfect person for Iron Man and Hugh Jackman Jr. is the perfect person for Wolverine. He brings to Castle the perfect level of humor and seriousness, he's also able to make people relate to his struggle and in every episode you feel the grief and the loss that he goes through every day. He also handles his action scenes incredibly well. The viciousness of the Frank Castle in the comics is the same thing you see in the show.
Another notable performance is Ben Barnes as Billy Russo aka Jigsaw. His transformation from soldier to villain was amazing to see and he held his ground in the Marvel-Netflix pantheon of villains and was just as enjoyable as David Tennant's Kilgrave in "Jessica Jones" and Vincent D'onfrio's Wilson Fisk in "Daredevil" , if not more enjoyable seeing as how well he interacts with the rest of the cast.
One drawback though of the series(and really the Marvel/Netflix Universe as a whole) is Deborah Ann Woll's Karen Page who even though she has redeeming qualities is still only brought down to a romantic interest. We even find a better and more compatible love interest in Amber Rose Revah's Agent Madani. Knowing stuff like this and seeing how she never really made her mark on the show, much like her time on "Daredevil" and "The Defenders" , her time on-screen and her performance is mediocre.
Overall, this show was definitely great and one I will find myself re-watching and then waiting on season two for. I love how it respected its source and it truly showed the reality of the struggle for veterans after they come home from war. I give this a 8.9/10 and I would definitely recommend this.