Comic Talk: Iceman #7 Review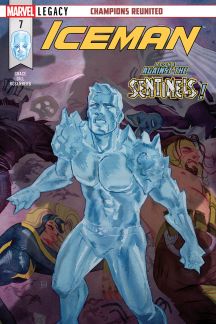 Hang on for a minute...we're trying to find some more stories you might like.
Background
:
CHAMPIONS REASSEMBLED PART 2! The original Champions have re-assembled! Will they be enough to protect Los Angeles from a swarm of rogue, haywire Sentinels? Even in L.A., all eyes are on Bobby – how will he fare as a leader?
Review: Before I start, let me just say that when it comes to this series, I am very biased because it's been so good so far! If you are not reading Iceman right now than please go and pick some issues up! But now more targeted towards this issue, I have loved this arc so far because of the new dynamics Sina Grace has implemented into the book. I love the famous chemistry between Bobby and one of his oldest friends, Warren. Also, come on: Hercules just makes every book good! Sina Grace is great with humor in my opinion, this book has drama and has serious moments but is great balancing it out with its humor. But the only thing better than the stellar writing is the even better art and the way it takes Bobby's powers to its limits, really showing off how much of an Omega Mutant he is. Lastly, I would be remiss if I didn't mention the great romantic story line that has been given to Bobby and also the way Sina Grace seamlessly starts planning out the next arc and weaving it into this issue was so good. It has me intrigued for so much more that I want Marvel to bump this series to twice monthly. I give this a 10/10.