Comic Talk: Deathstroke #24 Review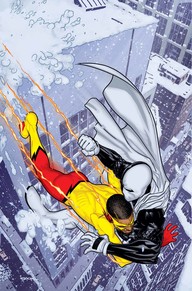 Stefan Sani Siewe
October 12, 2017
Hang on for a minute...we're trying to find some more stories you might like.
Background: In this "Defiance" arc recently, Slade Wilson aka Deathstroke (after the events of the  crossover event between "Teen Titans", "Titans", and "Deathstroke": The Lazarus Contract) has been "reborn" in a sense or maybe in his own way has had an "Archimedes Moment" which motivates him to stop killing and form a team of heroes to help him save the world, even though he's recruited Power Girl II, Kid Flash (Wally West II), his oldest friend Wintergreen, Terra, his daughter  Rose Wilson, his son Jericho(and right after he got exposed for sleeping with Jericho's fiancé!), and his ex-wife Adelaide, no one on the team believes that Slade has actually turned good except for him.
Review: I think the author Christopher Priest had made a brilliant choice to tell this issue from Wally's perspective. This issue is a filler issue to start off the next arc and it really was fun and light which to be honest was really needed because in my opinion, Deathstroke has been a frickin soap opera recently, with all the relationship drama and everything, I think I just needed something to tell me that this comic can actually calm down and still be good. This was what I need, the characters were subtly getting developed more and more and it was just an all-around great issue. The art complemented the story well and it sets up the next arc great while also being a dope stand-alone issue. I give it a 9.0/10 because the only thing I don't like is the ending because in the current continuity, there's some stuff that just doesn't make sense but I don't like to give spoilers but I won't say anything other than read Justice League of America(2017) and Flash(2016) and then reread this issue, you'll see.